"You! When all cats have closed eyes, we gave the gift of sight to the cat who is blind. You see more than most, but look inside, too. See you own strength."
— Midnight to Jayfeather in The Last Hope, page 127
| | |
| --- | --- |
| | This character was previously featured on the front page! Try not to vote for this character again. |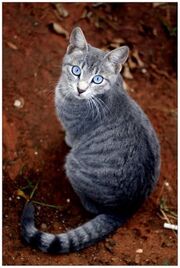 Jayfeather is a gray tabby tom with blind blue eyes and a scar running down one side
Current: ThunderClan
Status: Alive
Rank: Medicine Cat
Age: Approx. 36 moons (3 years)
Names
Kit-Jaykit
Apprentice-Jaypaw
Medicine cat Apprentice-Jaypaw
Medicine Cat-Jayfeather
Family
Foster Mother-Squirrelflight
Foster Father-Brambleclaw
Mother-Leafpool
Father-Crowfeaher
Brother-Lionblaze
Sister-Hollyleaf
Half Brother-Breezepelt
Grandmothers-Sandstorm, Ashfoot
Grandfathers-Firestar, Deadfoot
Great Grandmothers- Brindleface, Nutmeg (kittypet)
Great Grandfathers- Redtail, Jake
Great Great Grandfathers-Fuzzypelt, Adderfang
Great Great Grandmothers-Robinwing (thunderclan), Swiftbreeze
Aunt-Squirrelflight
Uncle-Eaglekit
Grand Aunt-Princess
Grand Half Aunts-Ferncloud, Ruby
Grand Half Uncle-Ashfur (thunderclan)
Great Grand Aunts-Spottedleaf, Willowpelt, Leopardfoot, Frostfur
Great Grand Uncles-Ravenpaw, Dustpelt, Patchpelt
Community content is available under
CC-BY-SA
unless otherwise noted.