ShadowClan is one of the four main clans of the forest. They live in a pine forest and eat frogs and lizards. Their founding leader is Shadow.
Current Leader-Blackstar
Current Deputy-Rowanclaw
Currrent Medicine cat-Littlecloud
Symbol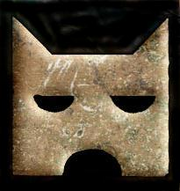 They symbol depicts a cat head with eyes and a mouth carved into it. This doesn't have much to do with the clan, but is still appropriate for cats.
List of Known Leaders in Order
Shadow
Hollystar
Brindlestar
Lilystar
Blizzardstar
Snowstar
Brightwhisker
Flowerstar
Ripplestar
Marshstar
Yellowstar
Sedgestar
Dawnstar
Cedarstar
Raggedstar
Brokenstar
Nightstar
Tigerstar
Blackstar (currently)
List of Known Deputies in Order
Lakestorm
Sunnytail
Brightwhisker (later leader)
Marshscar (later Marshstar)
Snaketail
Stonetooth
Raggedpelt (later Raggedstar)
Foxheart
Cloudpelt
Brokentail (later Brokenstar)
Blackfoot (later Blackstar)
Cinderfur
Blackfoot (deputy again)
Russetfur
Rowanclaw (current)
List of known Medicne Cats in Order
Pebbleheart
Redscar
Mossheart
Molepelt
Sagewhisker
Yellowfang
Runningnose
Littlecloud (current)
Flametail
List of Known Members
Applefur
Archeye
Ashfur
Badgerpaw
Blackstar
Blizzardstar
Blossomkit
Boulder
Brackenfoot
Brightflower
Brightwhisker
Brindlestar
Brokenstar (formerly)
Brownpaw
Cedarheart
Cedarstar
Cinderfur
Clawface (formerly)
Cloudpelt
Crowclaw
Crowfrost
Crowtail
Darkflower
Darkstripe (formerly)
Dawncloud
Dawnpelt
Dawnstar
Dewkit
Driftkit
Fallowkit
Featherstorm
Fernshade
Ferretpaw
Flametail
Flintfang
Flowerstar
Foxheart
Hollowbelly
Hollyflower
Hollystar
Ivytail
Jaggedtooth (formerly)
Jumpfoot
Kinkfur
Lakestorm
Lilyfur
Lilystar
Littlebird
Littlecloud
Lizardfang
Lizardstripe
Logfur
Marshkit
Marshstar
Mistkit
Molepelt
Mossfire
Mossheart
Mosspaw
Mudclaw
Nightstar
Nightwhisper
Nightwing
Oakfur
Oakleaf
Olivenose
Owlclaw
Palefoot
Pebbleheart
Pinepaw
Poolcloud
Raggedstar
Ratscar
Redscar
Redwillow
Ripplestar
Rowanclaw
Runningnose
Russetfur
Sagewhisker
Scorchfur
Sedgestar
Shadow
Shrewfoot
Silvermask
Smokefoot
Smokepaw
Smoketalon
Snaketail
Snaketail
Snowbird
Snowstar
Sparrowkit
Spiderfoot
Splashnose
Spottedpaw
Starlingpaw
Stonetooth
Stumpytail
Sunnytail
Tallpoppy
Talonpaw
Tawnypelt
Tigerheart
Tigerstar
Toadfoot
Wetfoot
Whitethroat (formerly)
Whitewater
Wildfur
Yellowfang (formerly)
Yellowstar