SkyClan was one of the five main clans of the forest until Twolegs destroyed their territory. They left the forest and then died off. They were later rebuilt of their desendents and other rogues, loners, and kittypets by Firestar and Sandstorm. They live in a Gorge. Hunting birds mostly and other woodland prey. Their founding leader was Sky.
Current Leader-Leafstar
Current Deputy-Sharpclaw
Current Medicine cat-Echosong
Current Medicine cat apprentice-Frecklewish
Symbol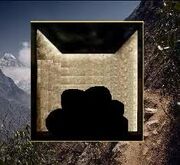 The symbol depicts a cat head with a tree top in it. This makes sense because SkyClan climbs trees very well.
Known Leaders in Order
Sky
Birchstar
Beechstar
Mothpelt
Maplestar
Dewstar
Hawkstar
Robinstar
Rowanstar
Darkstar
Fennelstar
Flystar
Cloudstar
Buzzardstar
Spiderstar
Leafstar (current)
List of Known Deputies in Order
Rainsplash
Maplewhisker (later Maplestar)
Raincloud
Petalfall
Cloudstorm (later Cloudstar)
Buzzardtail (later Buzzardstar)
Honeyleaf
Sharpclaw (current)
List of Known Medicine cats in Order
Quailfeather
Fawnstep
Brackenheart
Echosong (current)
Frecklewish (current)
List of Known Members
Beechpaw
Beechstar
Billystorm (daylight)
Birchstar
Birdflight (formerly)
Birdpaw
Bouncefire
Brackenheart
Braveheart
Brightspirit
Buzzardstar
Cherrytail
Cloudstar
Clovertail
Coal (formerly)
Cora (formerly)
Creekfeather
Darkstar
Dewstar
Ebonyclaw (daylight)
Echosong
Egg
Fallensnow
Fallowfern
Fawnstep
Fennelstar
Fernpelt
Firekit
Flystar
Frecklewish (daylight)
Frostclaw (formerly)
Gorseclaw (formerly)
Harrykit
Harveymoon (daylight)
Hawkstar
Honeyleaf (formerly)
Honeypaw
Hutch (formlery)
Leafstar
Lichenfur
Macgyver (daylight)
Maplestar
Mintfur
Morningmist
Mothpelt
Mottlepaw
Mousefang
Mousepelt
Nettlesplash
Nightfur
Nightmask
Oakstep
Patchfoot
Petalfall
Petalnose
Plumwillow
Poppycloud
Quailfeather
Rabbitleap
Raincloud
Rainfur
Rainsplash
Robinstar
Robinwing
Rockshade
Rowanfur (formerly)
Rowanstar
Rubblepaw
Sagefur
Sandypaw
Sharpclaw
Shiningheart
Shorty
Shrewtooth
Sky
Skywatcher
Snooky (formerly)
Sol (formerly)
Sparrowpelt
Spiderpelt
Spiderstar
Spottedpelt (formerly)
Squirrelfur
Stick (formerly)
Stormkit
Sunpelt
Swallowflight (formerly)
Tangle
Tinycloud
Twigtail
Waspwhisker
Whitewhisker