WindClan is one of the four main clans in the forest. They live in the moorland and hunt rabbits and hares. Their founding leader was Wind.
Current Leader-Onestar
Current Deputy-Ashfoot
Current Medicine cat-Kestrelflight
Symbol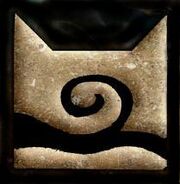 The Symbol depicts a cat head with a gust of wind going through it which is probably because they are called WindClan.
List of Known Leaders in Order
Wind
Gorsestar
Graystar
Duststar
Stonestar
Hazelstar
Featherstar
Dovestar
Fallowstar
Birchstar
Rabbitstar
Swiftstar
Heaherstar
Tallstar
Onestar (current)
List of Known Deputies in Order
Gorsefur (later Gorsestar)
Stonetail (later Stonestar)
Mudpuddle
Pebblefur
Acorntail
Milkfur
Reedfeather
Talltail (later Tallstar)
Deadfoot
Mudclaw
Onewhisker (later Onestar)
Ashfoot (current)
List of Known Medicne cats in Order
Mothflight
Swiftfoot
Thrushpelt
Larkwing
Hawkheart
Barkface
Kestrelflight
List of Known Members
Acorntail
Adderkit
Adderpaw
Antpelt
Ashfoot
Barkface
Birchstar
Boulderpaw
Breezepelt
Buzzardkit
Cherryfeather
Cloversplash
Crowfeaher
Crowfur
Daisytail
Darkfoot
Dawnstripe
Deadfoot
Dewspots
Dovestar
Duststar
Eaglekit
Emberfoot
Fallowstar
Featherstar
Furzepaw
Gorseclaw
Gorsepaw
Gorsestar
Gorsetail
Gorsetail
Graypool (formerly)
Graystar
Hareflight
Harespring
Hawkfoot
Hawkfur
Hawkheart
Hazelstar
Heatherstar
Heathertail
Kestrelflight
Larkwing
Leaftail
Milkfur
Morningcloud
Morningflower
Mothflight
Mudclaw
Mudpuddle
Nightcloud
Oatwhisker
Onestar
Owlwhisker
Pebblefur
Pricklekit
Quickpaw
Rabbitstar
Rabbittail
Redclaw
Reedfeather
Robinwing
Runningbrook
Runningkit
Rushtail
Ryewhisker
Sedgewhisker
Sheeptail
Shrewpaw
Slatepelt
Smallkit
Specklepaw
Stoneclaw
Stonestar
Sunstrike
Swallowtail
Swiftfoot
Swiftstar
Tallstar
Tawnyfur
Thistlepaw
Thistlepaw
Thistlepaw
Thrushpelt
Thrushwing
Tornear
Weaselfur
Webfoot
Whiskernose
Whiteberry
Whitetail
Willowbreeze (formerly)
Willowclaw
Wind
Wolfkit